Online Course: Gut-Brain Axis in Mental Health and Clinical Practice: Molecular Mechanisms and Therapeutic Interventions
This is a stand-alone section of the larger program "Human Microbiome and Dysbiosis in Clinical Disease"
​
Presenter: Dr Alex Vasquez (BS, DC, ND, DO [USA], FACN, Fellow of the Royal Society of Medicine) is author of more than 120 professional publications including several articles in leading science and medicine journals; Dr Vasquez started studying nutrition and functional medicine since the inception of functional medicine in the early-mid 1990s and has presented and published on a wide range of topics. Several of "DrV"'s articles specific to dysbiosis can be downloaded via the links provided below.
​
Videos: All ICHNFM videos are professionally prepared, recorded and edited; of note, the videos and transcripts in this program have been edited at least twice by Dr Vasquez and have also undergone independent review by accreditors and professional reviewers.
Part 1 Introduction & Biological Plausibility: This video of approximately 2 hours introduces and contextualizes discussions on the "Gut-Brain Axis" (BGA); the 4 major GBA pathways are introduced and discussed in preparation for the clinical applications in Video #2.

Part 2 Clinical Protocols and Interventions: This major 4-hour video production covers the nuances and clinical approaches relevant to the Gut-Brain Axis for each of the following:

Depression / anxiety / stress

Brain injury, stroke, spinal cord injury

Autism / Schizophrenia / Bipolar

Neurodegeneration, eg, Alzheimer's and Parkinson's Dzs

Hyperphagia / obesity / insulin resistance

Multiple sclerosis

PANDAS and (pediatric) obsessive-compulsive disorder

Brainstem encephalitis

Migraine

Fibromyalgia / complex regional pain syndromes / CFS-SEID​
​
Published transcript of videos: The transcripts from these videos have been reviewed, edited, and embellished with updates and additional citations and images titled Deciphering the Gut-Brain Axis in Clinical Practice.
Gut-Brain Axis: Part 1, Context and Mechanisms
Gut-Brain Axis: Part 1, Context and Mechanisms
01:40:53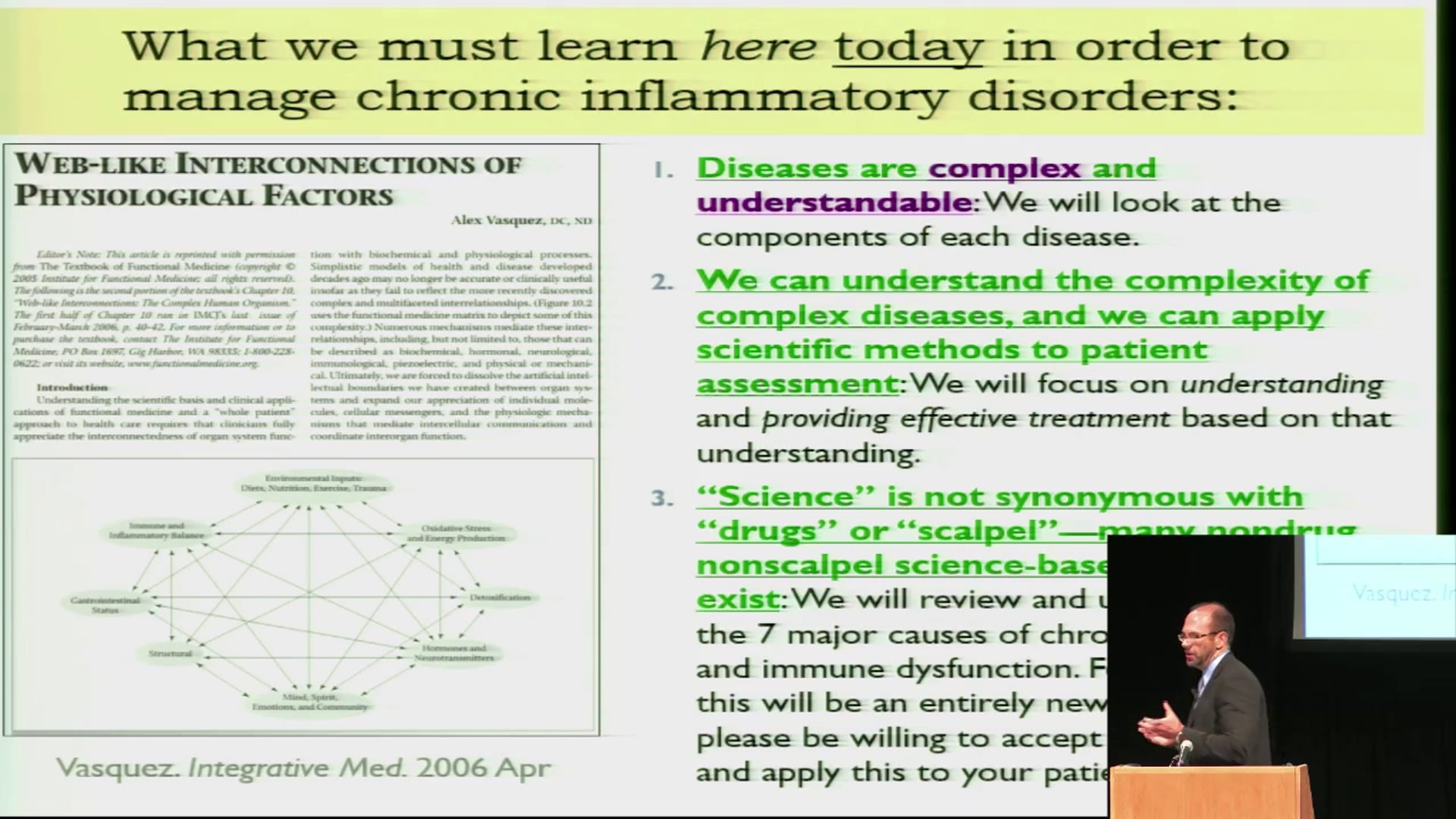 Functional Medicine Inflammology, Part 1
01:05:58
Functional Medicine Inflammology, Part 2
01:27:24
Questions and Answers
What are the qualifications and/or experience of the person(s) who has written the online activity?
Academic: Dr Vasquez has 3 clinical doctorate degrees from accredited universities in the United States.

Performance: Dr Vasquez

Administrative: Dr Vasquez

Publications: Dr Vasquez

Teaching: Dr Vasquez has lectured internationally for post-graduate medical education since 2001 and has published academic books, chapters, and articles (more than 120) since 1994.

Clinical: Dr Vasquez's clinical experiences include working in private solo and group practices, community health clinics, and hospital-based departments, such as Family Medicine, Emergency Medicine, Urgent Care, Internal Medicine, Neonatology, and Obstetrics.

Associations: In addition to having achieved various certifications and awards, Dr Vasquez is currently a Fellow of the American College of Nutrition (FACN) and Oversees Fellow of the Royal Society of Medicine (RSM).

Research backing for the activity content – e.g. indicative list of books / articles / reports consulted, writer's expertise in the subject...
The video presentation is densely cited to current and relevant biomedical/clinical research.

Dr Vasquez has researched this topic for more than 24 years (since 1994) and has written and lectured on this topic for more than 14 years (since 2004).

Dr Vasquez has published several books and articles on this topic including the following, organized by year:
​
What are the learning objectives of the activity?
Define: Dysbiosis, eubiosis, and the associated terminology in immunology, microbiology, and pathophysiology

Explain: The role of multifocal polydysbiosis in metabolic and inflammatory diseases

Analyze/Interpret: Laboratory results for significance and/or lack thereof; judicious analysis

Identify: Actionable alterations in microbial patterns, phenotypes of dysbiosis-induced disease

Demonstrate: Skill in clinical reasoning

Implement: Treatment plans consistent with the 4 main components of evidence-based medicine

Reject (ie, nullify): Distractor data, non-actionable data, inaccurate and bogus data
​​
How is the program delivered?
The program consists entirely of 6 hours of video delivered via internet to computers/iPad/smartphone.
​
Does this activity have any other accreditation or recognized qualifications?
Earlier versions of this program were accredited for CME/ACCME accreditation for medical physicians, nurses, and pharmacists in the United States.

The program was also accredited for chiropractors in various states (each state has different standards) in the USA and also in the Canadian province of Alberta.
​
What more can you tell me about the quality?
Clients are allowed to view samples from the videos prior to purchase.

Clients are allowed to send questions for reasonable and delineated replies; the faculty are not responsible for providing extensive detailed nor for responding to unreasonable requests, e.g., extensive research or personalized advice.

We are confident in the intellectual quality of our materials and the aesthetic quality of the video and audio production; we provide high-quality materials for a reasonable or lower-than-average price and do not provide refunds after materials have been delivered.

For people who need additional samples and reassurance, they can view additional articles (many of which have been independently edited and reviewed) at the author's Academia archive, as well as other video samples on various pages of this website and specifically on this current page.

Clients/attendees can send their questions to faculty, and questions will be addressed in a document or web-page made available for the benefit of all attendees, eg, a page of "Questions, Answers, and Additional Explanations."

Attendees can 1) use the evaluation and improvement page/form, and 2) request additional information or an embellished explanation. If a particular concern warrants a change to the presented material, then an addendum will be produced either in written or video format.
What procedure is in place to ensure that the content is up to date?
The author is an international expert on this topic and frequently publishes books, journal articles, and videos related to this material; furthermore, the author is providing two invited presentations in 2018 at high-level international conferences.
Has this activity been externally reviewed by a third party, or was there any external advice taken during its development?
Feedback and review has been provided by attendees—most of whom are medical physicians (MD)—and by colleagues who are healthcare professionals in various disciplines.

Earlier versions of this material have been reviewed by different post-graduate continuing medical education (CME) accreditors based in the United States as well as by post-graduate chiropractic accreditors in the United States and Canada.

A small section of this material was presented in 2015 for continuing professional development (CPD) at the Royal Society of Medicine in London, England.
​
This page is currently being built and populated; please visit this page again soon